< Back to Blog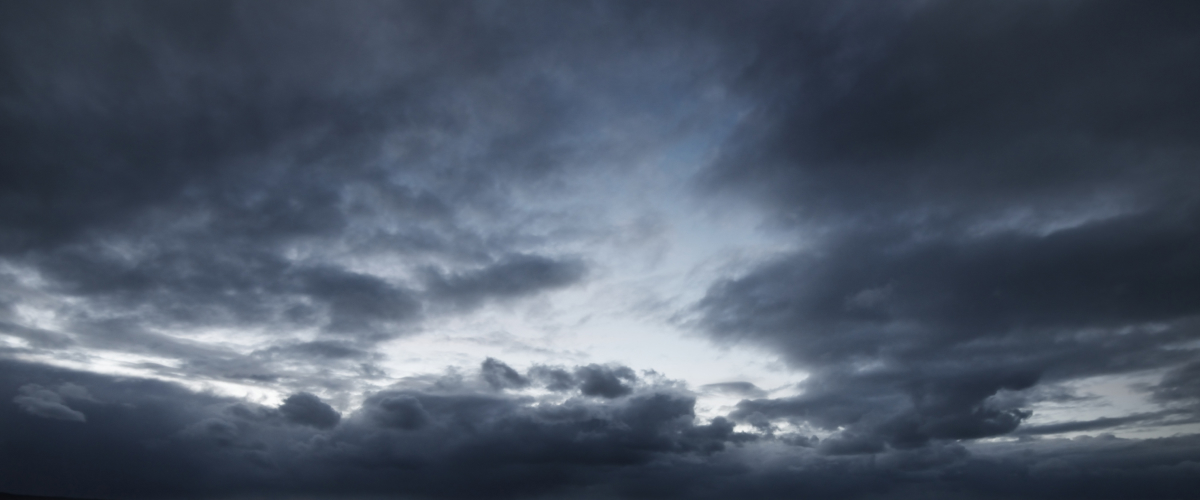 Repairing Roof Storm Damage
Considering your roof is your primary defense against weather damage, it's important to know how to handle roof damages. Your building's roof is meant to withstand an immense amount of abuse. However, by no means does this mean it is immune to permanent damage. 
What Kind of Storms Can Damage Your Roof?
A combination of severity and consistency can be bad news for your roof. Anything can damage it, though some types of storms can do more harm than others. So what kind of weather do you have to watch out for? 
Rain
Some sprinkles here and there aren't too harmful to the exterior roof. However, when slight damage has been caused by other more severe storms, it can lead to moisture damage and leaks into the interior of the home. 
If you find rain damage on the interior of your home, it's important to inspect for things like mold, rot, and other structural issues.
Hail 
Hail is generally the biggest threat to your roof. It can drastically decrease your roof stability, and cause holes in the shingles or tiles. This allows water to leak into the underlayment and insulation. This lets water into your roof, which will cause interior damage to your home..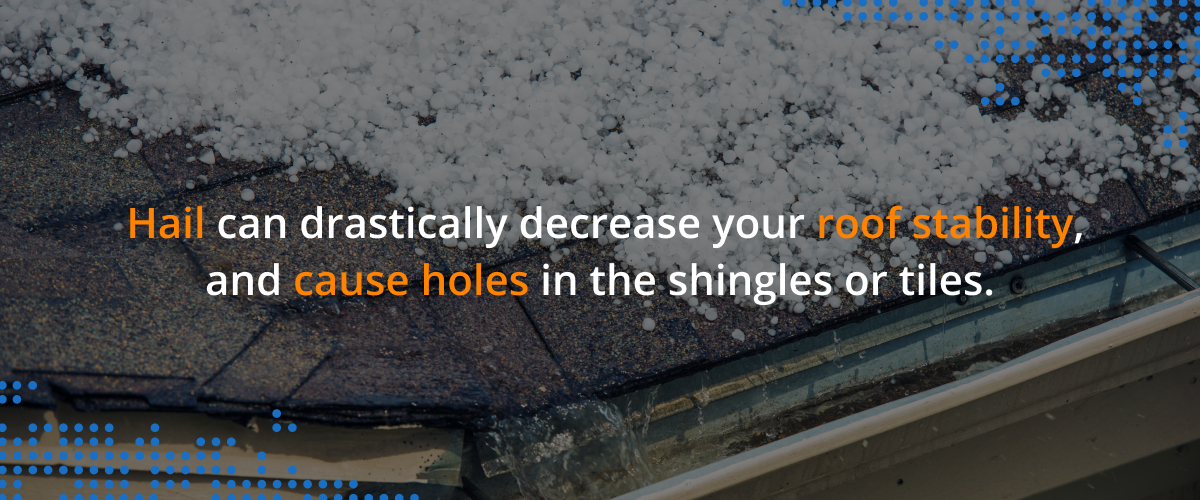 Wind
Some parts of the US are prone to not just tornadoes, but wind storms. Depending on what material your roof is made of, winds as low as 60 miles per hour can cause damage. As the wind starts to pick up in these storms, you can expect to lose shingles or tiles. In more severe cases, other debris like tree branches can fall on your roof, causing significant damage. 
Assessing the Damage
Whenever a strong storm passes through your area, inspect your roof for damage when it's safe to do so. You should use things like binoculars or a ladder to visually assess the damages from afar. Take notes of all missing and damaged materials that you can see from the ground.
If you need to get on your roof to look for more signs of damage, your best and safest route would be to hire a contractor or inspector. Even when your roof is in perfect condition, untrained feet could fall through or lose balance. Especially after a strong storm, call a professional.
Signs of Interior Storm Damage
If your roof fails, even in a small area, the interior of your home can suffer. After a powerful storm passes, make sure you check these specific areas that are usually the first indicators of interior damage.
Gutters—blockages can cause water to leak into corners and crevices of your roof, and eventually into your home. 
Ceilings and Walls—look for yellow or brown water spots, bubbling, and cracks.
Highest and Lowest Points of Your Interior—The highest spot will probably be the first place that the water gets in. The lowest point will most likely be where mold and rot will grow.
Floors—Look for flooring concerns such as gaps, curling floorboards, or sagging wood 
Signs of Storm Damage for Specific Roof Types 
While things like cracks and holes in your roof are universal, more subtle damage looks different for each type of material.
Asphalt Shingles—look for missing, cracked, or curled shingles
Composition shingles—check for granule buildup in gutters along with rust, rot, and dented sections
Wood Shingles or Shakes—look for consistent rot and mold
BUR or Membrane Roofing—the materials common on flat roofs will often show cracks, tears, surface bubbles, and wrinkles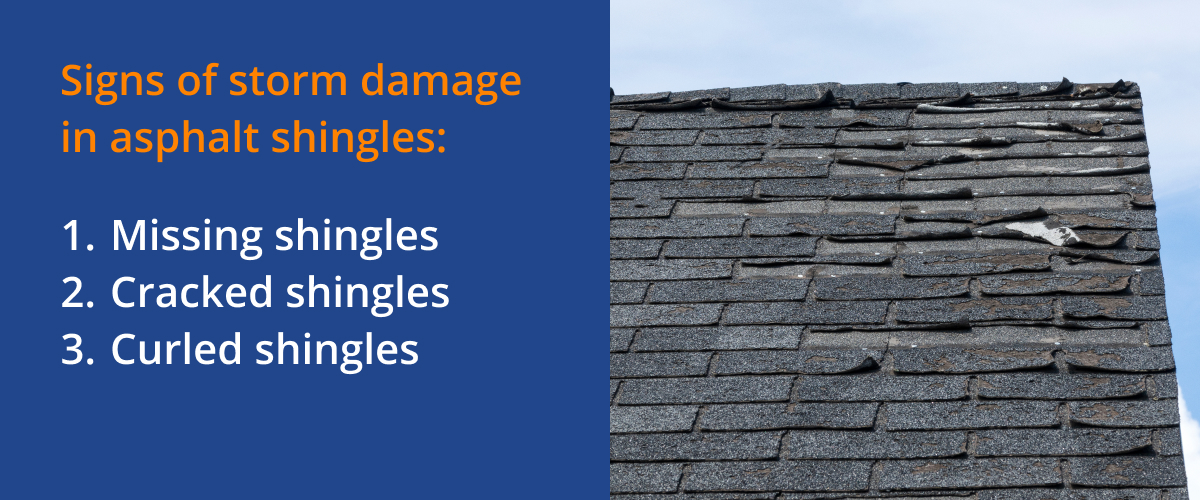 Damage to Roofing Supports
Remember, it's not just the exterior of your roof that may have suffered damage. The most severe storms can wreak havoc on all parts of the home. Your roofing contractor may look for damage in the following areas:
Flashing—tears or bulking
Roofing Cement—lose, crumbling or severely cracked cement
Chimneys—lack of support due to loose or crumbling brick
Are You Covered?
Before contacting a contractor to fix the roof, call up your homeowners insurance and figure out exactly what is covered under your plan. Generally, homeowners insurance for things outside of your control like fires, vandalism, and general storm damage. 
Once you know what is covered and what isn't, file a report to your insurance company as soon as possible so that your home can be repaired quickly.
In some cases, your insurance provider may have recommendations for contractors or even their own on standby for damages. Take pictures of the damage for your records, and insurance records
Temporary Fixes
It's not often that your roof can get repaired on the same day as the storm. Sometimes, you have to do ugly, temporary fixes to get by until the professionals can get  there. The classic bucket-under-the-leak is sometimes needed. Try to have a tarp around to cover specific areas from water damage.
Bring In The Professionals
Depending on who and what warranty and insurance you are under, you may have to follow specific instructions to get your roof repaired. However, many homeowners often have the freedom to choose their own contractor.
After a big storm rolls through, it attracts some shady people within the contractor space. The worst of which are known as storm chasers, these are the people who you absolutely need to avoid when it comes to roof repairs. They are not certified and typically do subpar work, leaving your roof susceptible to more damages.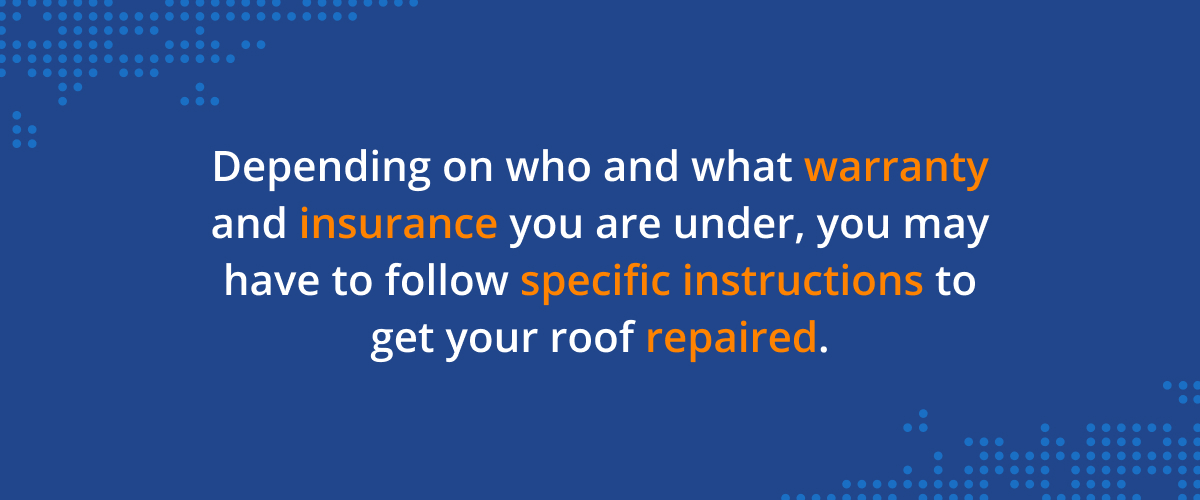 Legacy Repair Has You Covered
Instead of taking chances with uncertified repairmen, call Legacy Repair. Our years of service means we'll make sure your home is safe, sound, and dry after a storm.
Legacy Repair will inspect and repair roof storm damage. We have plenty of wild weather in Arizona. Make sure you have the most trusted roofing contractor at your side. Email or call us today at 623-303-0537