< Back to Blog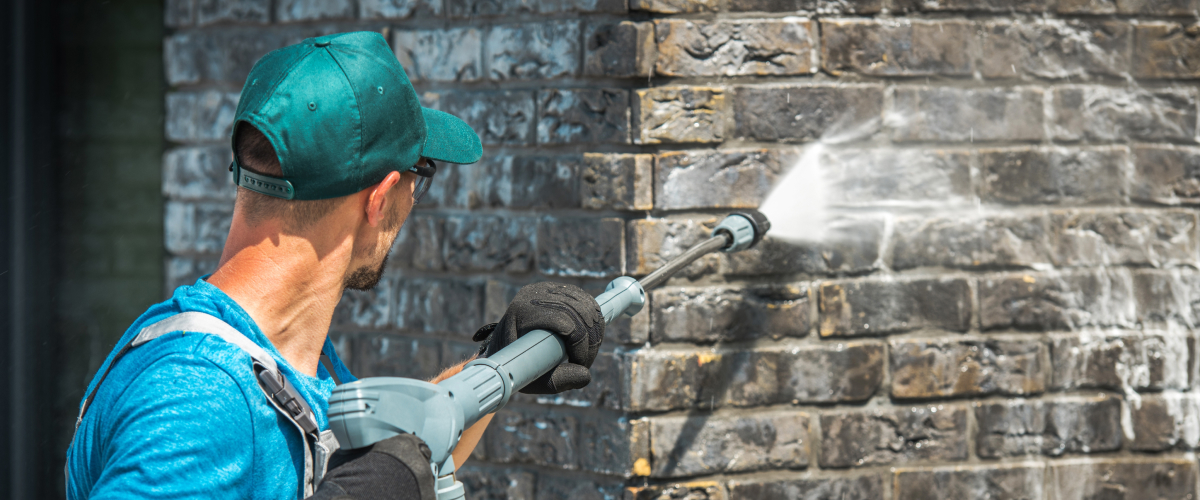 House Washing: Why and How
As a homeowner, you want to keep your property clean and attractive. One way to achieve this is by regularly washing the exterior of your home. House washing not only improves the appearance but also helps to protect it from damage caused by dirt, mold, and mildew. 
In this blog post, we'll explore the importance of house washing and provide some tips on how to do it effectively. Whether you're a new homeowner or have lived in your house for years, this guide will help you understand why house washing is essential and how to do it.
Why Wash Your House?
Why was your home? Aren't houses supposed to be hardy and able to withstand the weather? Yes, but taking care of your home's exterior has many benefits that will protect the interior of your house. 
Here are a few reasons to add house washing to your maintenance schedule.
Curb Appeal
Increasing your home's curb appeal has not only aesthetic value but monetary value as well. Clean homes can sell at a higher price, and when washed regularly, your home will look great. It's also a helpful step when repainting your home.
Get Rid of Mold and Mildew
One of the more "practical" reasons to wash your home is to get rid of any mold or mildew growing on the side of your home. It may not seem very likely, but mildew can begin to grow on the side of your home and cause harm to those living inside of it. It's best to wash your home to avoid these damages.
Save Money by Maintaining
Finally, maintaining clean siding will save you money by avoiding higher repair costs.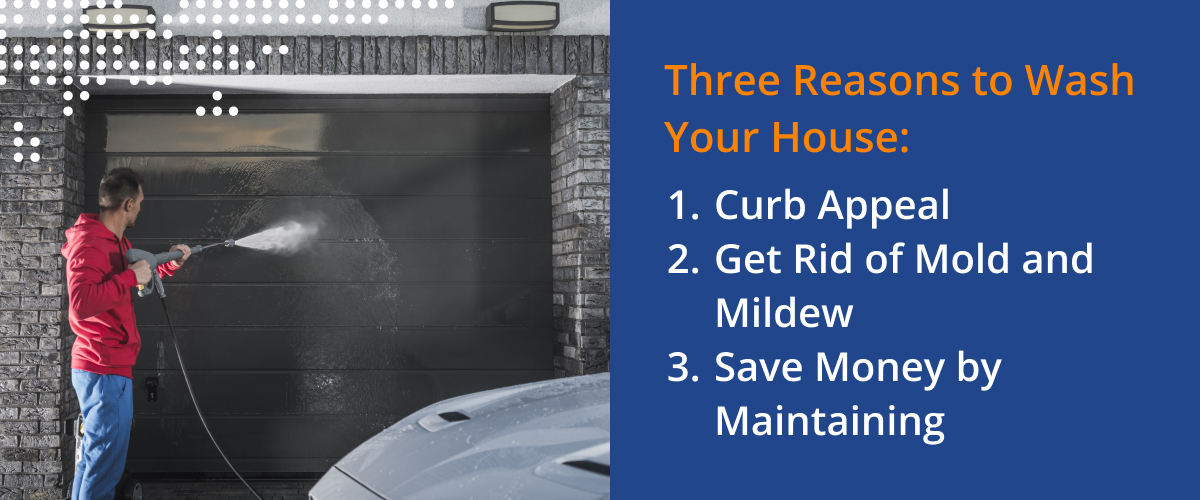 Before you Begin
The last thing you should do is take any pressure washer and begin spraying away. There are a couple of things you need to do first before you can wash your house.
What You'll Need
Before you begin, you'll need to gather up your supplies. To properly wash your house, you'll need the following:
Duct tape
Safety Goggles
Garden Hose
Detergent with Mildewcide
Bleach
Siding Brush
Pressure Washer
Extension wand for pressure washer (dependent on the height of home)
A few tarps
Regular household tools (just in case)
Choosing the Proper Pressure Washer
Pressure washers use pressure to push water from a faucet and shoot high-pressure water through a trigger gun. You measure the pressure in pounds per square inch (PSI), which equates to the amount of sprayed pressure applied to the surface.
When considering what pressure washer to use for your project, you need to consider the following:
Your type of siding
Your PSI
Whether you'll buy or rent a pressure washer
Your house's siding will determine your PSI and what kind of nozzle you'll need. Here's a quick outline for choosing PSI and nozzles. For softer siding such as stucco, wood siding, and aluminum, use 1,200 to 1,500 psi. 
For delicate stucco, use a wider nozzle. A wider nozzle will distribute the pressure over a wider area making it less harsh. While less versatile, electric models are decent for softer siding.
For more rigid materials such as brick, stone, steel, and vinyl siding, you should use 2,500-3,000 PSI. For these materials, consider using a gas washer. These powerful washers can reach higher PSIs and are easily repairable. 
If you rent a power washer, you should ask the renter what kind of washer, PSI, and nozzle is best for your siding. It would be best to discuss any safety concerns and operating questions you have with the renter.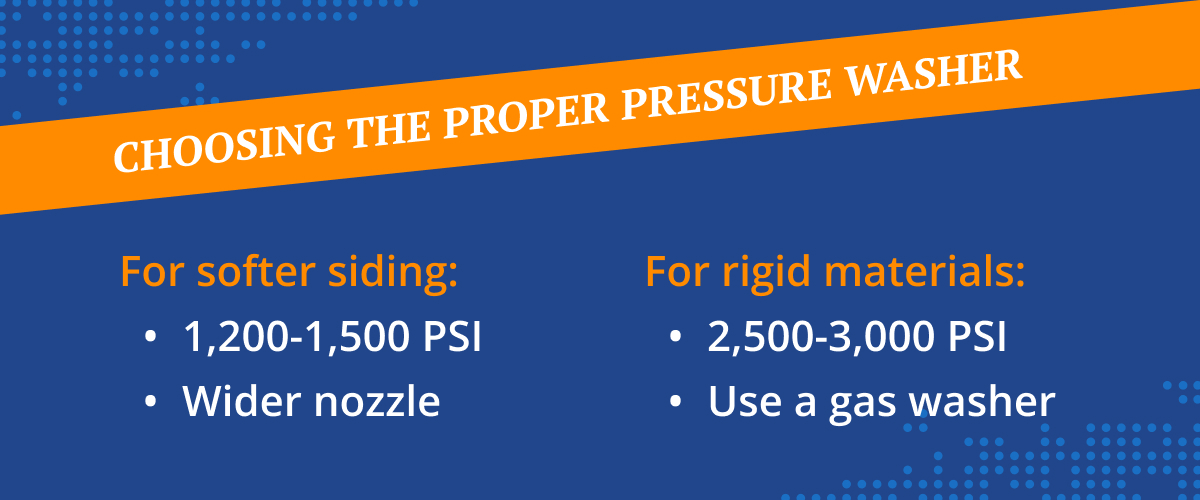 Prep the Area
Before spraying down your house, you'll want to do a once-over of the exterior. Ensure all electrical outlets are covered, and note any vents. These are areas you'll want to avoid.
You'll want to cover these with a tarp or remove these before pressure washing your home:
AC Units
Fixtures, such as lights or decor
Plants
Holes and cracks
Power outlets
Taking these steps will ensure you don't push water into the structure of your home or cause electrical damage. You can also prune back any plants that are against your home.
Safety Precautions 
Before you begin, it's important to understand safety precautions and how to handle the pressure washer correctly. If you've never used a pressure washer, consult the user manual and test the nozzles on a small section of your home to ensure it won't hurt your siding.
Here's a list of house cleaning safety precautions to follow:
Never point the pressure washer at someone or yourself
Wear eye protection
Never use a washer from a ladder
Avoid washing power lines and utility boxes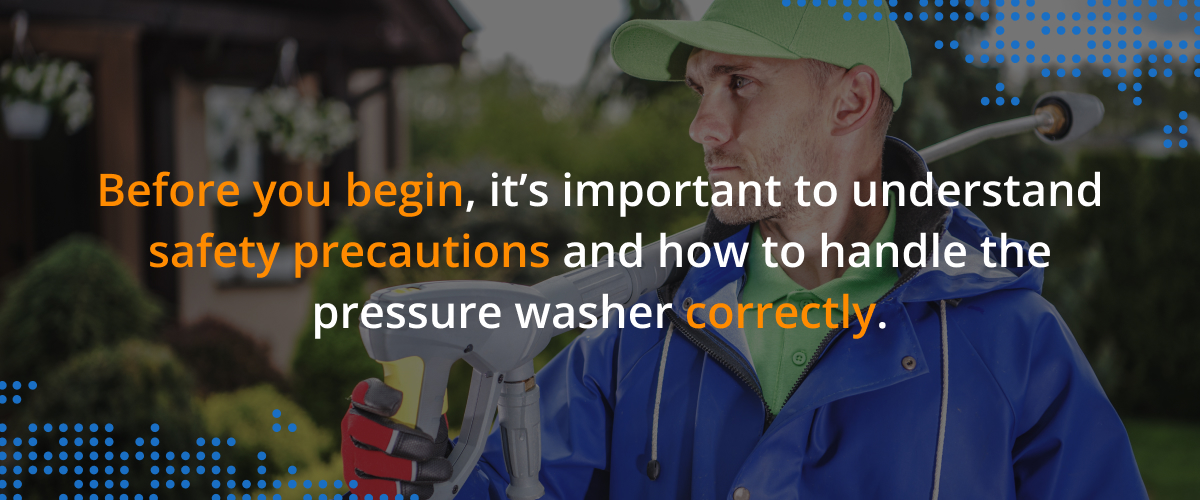 Steps to Power Washing Your Home
Now that you understand pressure washing and safety procedures and have gathered all your supplies, you can finally begin washing your home.
Prescrub 
Well, you're not quite ready. The first step is to use a soft siding brush to brush off any dirt on the side of the house. You don't have to get everything off. Instead, use minimal pressure to get the first layer off.
Mix Cleaning Solution
Next, you must ensure your cleaning solution is mixed and ready. Mix your mildewcide detergent according to the manufacturer's directions, adding one part bleach for every nine parts of the solution.
Apply Cleaning Solution
Now you're ready to spray the house with your cleaning solution. Work in smaller sections and work your way from bottom to top. To apply the solution, use a pressure washer with a soap nozzle or a garden sprayer.
Rinse Cleaning Solution
With the mildewcide solution sprayed onto a portion of the house, spray the house with your power washer. Start spraying 3-4 feet away from the wall and work from top to bottom. You may need to use an extension based on the height of your house.
After the initial spray, check the wall and ensure it's neither damaged nor dirty. If there's still dirt on the wall, move closer and check the wall every couple of inches.
Repeat Till Whole Home is Complete
Repeat these steps in small sections covering the whole house. In a matter of a couple of hours, your house will be looking and feel clean.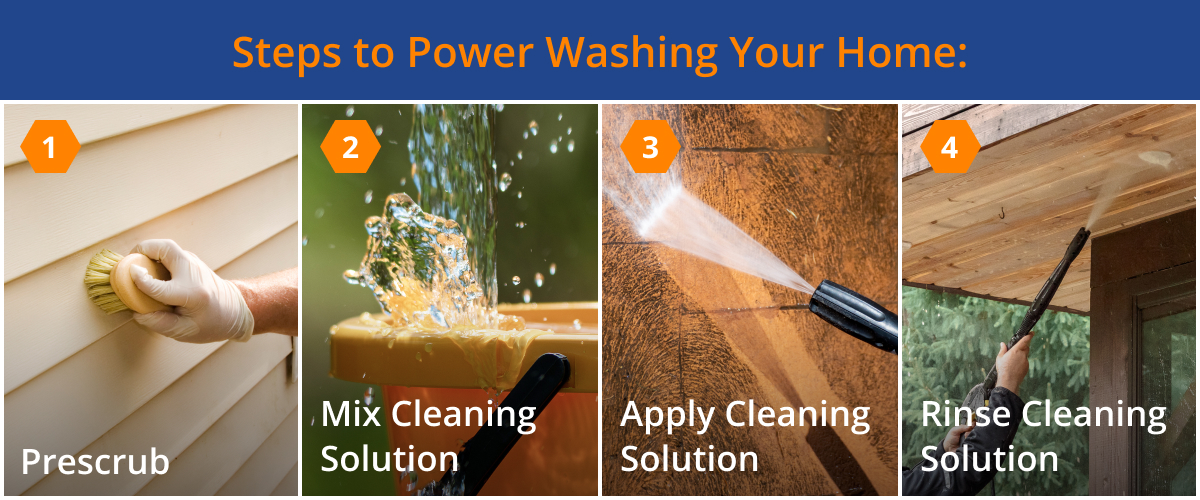 Final Considerations
If you have a simple single-story home, washing it shouldn't be too difficult. However, it will be more challenging if your house has multiple stories or complex architecture.
Hire a Pro Instead
If you're uncomfortable washing your home or cannot reach areas like your roof, consider hiring a professional pressure washer. The cost to pressure wash your home will vary based on the house size. 
Ensure the safety and quality of your cleanings and inspections by hiring a state-registered contractor with a current license and a good reputation in the community. Be sure that they are trusted, licensed, and insured. 
Avoid handshake agreements and be cautious of storm-chasers or uncredentialed individuals who may scam you. Instead, hire a licensed contractor such as Legacy Repair for your roof cleaning needs.