< Back to Blog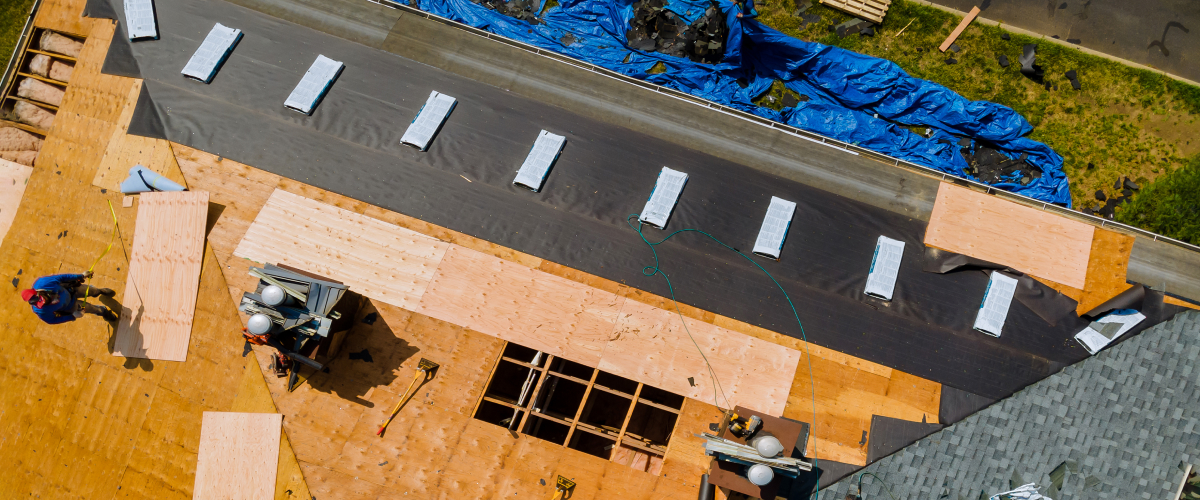 Investing in the Best Roof Underlayment
Although not seen, roof underlayment is crucial to your roofing system. It can protect against water damage, mold, mildew, and even falling debris like hail and small tree branches.
What is the best roof underlayment? 
That can be a tricky question to answer. However, knowing your options and what to look for is half the battle.
Here's a quick guide for finding the best roof underlayment for your home's needs.
Types of Underlayment
There are three types of underlayment to consider: felt, synthetic, and rubber. They each have their pros and cons. Let's talk about each one.
Felt
Felt is the oldest and cheapest of the three options. This asphalt-saturated material pairs well with shingle roofs. 
Felt underlayment is less weather resistant than other options and is more likely to tear during and after installation. 
Roofers have used this option for decades, but with the rise in synthetic and rubber underlayments, felt underlayments are becoming less popular. 
Synthetic
This newer roof underlayment option is made of woven synthetic fibers and has become the most popular choice. This realization shouldn't be a surprise, as synthetic underlayment has many benefits.
First, synthetic underlayment is very durable. Due to the polyethylene or polypropylene used in the weave, it's very durable and tear-resistant. This option also has better water resistance than felt.
Second, roofers like this option due to the ease of laying and the reduced likelihood of slipping. 
Third, it may be the 2nd most expensive option, but the price is still comparable to felt underlayment.
Synthetic roof underlayment options are becoming the most popular option for obvious reasons.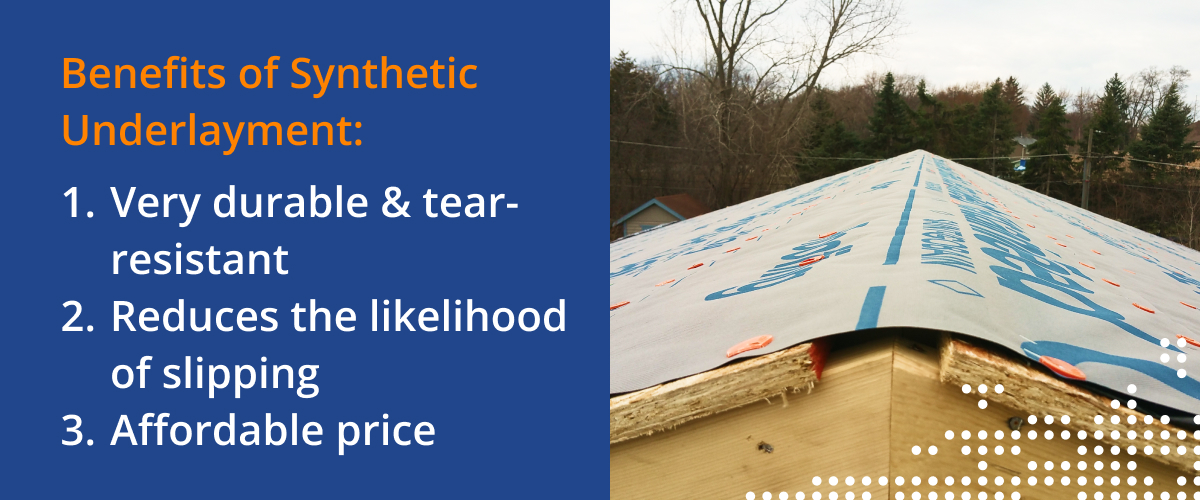 Rubber
This underlayment is the most expensive and durable of the three options. It includes some interesting features not included in felt or synthetic underlayments.
This option includes an adhesive backing that sticks directly onto your roof's deck. This adhesion creates a bond that leads to excellent water resistance and durability. 
Although the installation process can be complex, it is the best option for stopping leaks and potential damage caused by storms.
Factors for Choosing
These three options have pros and cons, but some work better in certain situations. 
Your Type of Roof
An important consideration is what kind of roof you have. Each underlayment option may work better or worse for specific roof types. 
Shingles: each underlayment type works well with shingles
Tiles and ceramics: synthetic underlayments work best for this option, although rubberized is still viable
Metals: due to the abrasion of metal roofing, felt is the only option not recommended for metal roofing
When choosing the best roof underlayment for your roof type, it's essential to check with your roofing's manufacturing notes. 
Your Climate
The environment you live in is also noteworthy when choosing underlayment. Some climates require stronger water resistance or more durable underlayment due to wind conditions.
For both extreme cold and heat, rubberized underlayment is the best option. The added water resistance is the biggest plus here.
Synthetic options are suitable for most climates. They keep out moisture while allowing for humidity to escape. The best all-around underlayment for most environments will be synthetic underlayments. 
Although the least durable of the three, felt is still a good option for areas with dry heat.
Regarding areas prone to wildfires, fire-resistant options exist for all three roof underlayments.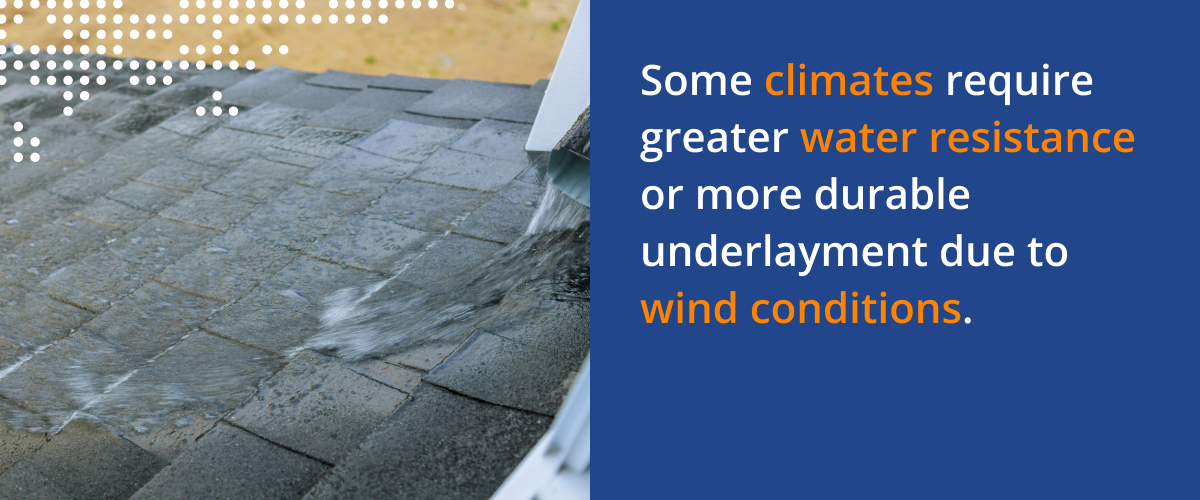 Your Budget
Finally, the cost of roof underlayment. Here's an average breakdown of each option and how much you can expect to pay per square foot (not including labor).
Felt: the least expensive option ($0.05-$0.50)
Synthetic: the middle-most expensive ($0.17-$0.55)
Rubberized: the most expensive ($0.55-$0.65)
Looking at these prices, it becomes clear why more people opt for synthetic underlayment. The cost of rubberized underlayment is much higher than that of the other two options, so the price difference between felt and synthetic is much closer.
We don't recommend going the DIY route regarding something as important as your underlayment. With labor costs, the national average you can expect to pay is 3k-7k. This number depends on many things, but if you'd like to learn more about the cost of roof underlayment for your home, get an estimate!
Best Roof Underlayment for AZ
There are many different climates in Arizona. We know what works well here, but what's best for your home depends on many variables.
Our qualified roofers can help you find specific answers to your project needs. If you live in the greater Phoenix area, call us at 623-303-0537 or email us.