< Back to Blog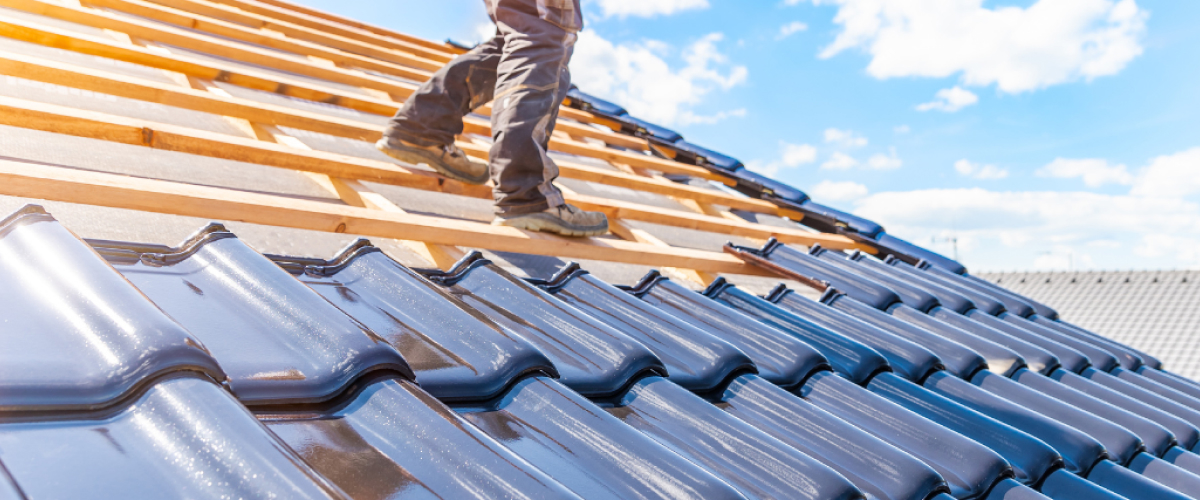 Types of Roof Maintenance Options
I'm sure you're familiar with the phrase, "If it ain't broke, don't fix it." This saying rings true in some circumstances, but it couldn't be more wrong for roofing. Roofs require regular attention. Without them, minor problems can quickly grow into big problems.
Please don't wait for your roof to be broken before you fix it.
Benefits of Regular Maintenance 
Your roof is an integral part of your home's livelihood. If it's not equipped to perform its best, it may cause issues in other areas of your home.
Regular roof maintenance can: 
Decrease your energy bill
Fight off roof leaks
Last longer
Look better 
Increase air quality
The benefits of regular roof system maintenance greatly outweigh the costs. 
Preventative Roofing Maintenance
When talking about roofing maintenance, consider it a preventative measure. 
When following a preventive maintenance plan, you can spot any problems before they become more significant.
You can categorize roofing maintenance jobs into inspection, removal, and general maintenance. Let's learn about what you should include in your yearly maintenance plans.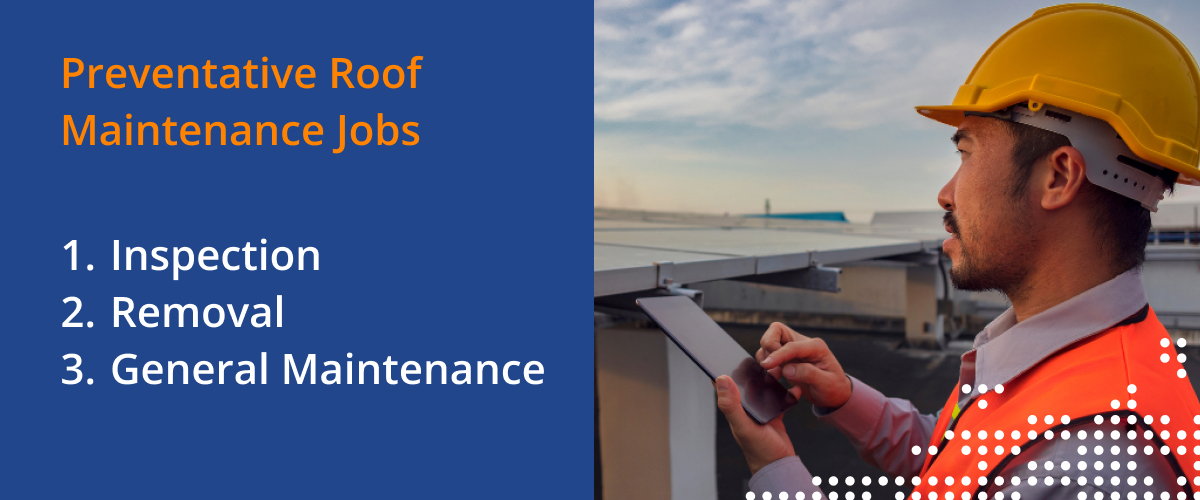 Inspection
Professional inspections should be a yearly task for your roof. Regularly getting a professional's opinion on how your roof is doing will help you find any minor roofing problems before they worsen.
As well as having a yearly inspection, it's a good idea to look over your roof now and then. 
When inspecting your roof, your safety is most important. You can examine a lot of areas from the street or a ladder. If you're unsure about the stability of your roof, do not step onto it.
Here are some things to look out for when inspecting your roof:
Debris on roof
Any growing algae or moss
Excess debris in gutters
Curled and damaged shingles
Missing shingles
Damaged flashing
Another crucial area to check on from time to time is your attic. Check for any water damage and inspect your insulation for any moisture. Homeowners tend to neglect this area until it's too late. Instead of ignoring your attic, check it often.
Removal
Second, remove any debris from your roof and gutters. 
Having piles of leaves on your roof can cause more harm than you think. These piles can often hide moisture and lead to mold or algae growth. Depending on what it is that's on your roof, these piles can also attract unwanted critters to your roof.
For residents of Phoenix, Arizona, the most common time debris will show up on your roof is after a large storm. Monsoons and haboobs can be hectic, with winds almost always exceeding 40 miles per hour. 
Be careful while removing debris from your roof and gutters. If you feel uncomfortable going onto your roof or are unsure of its stability, call a professional for help.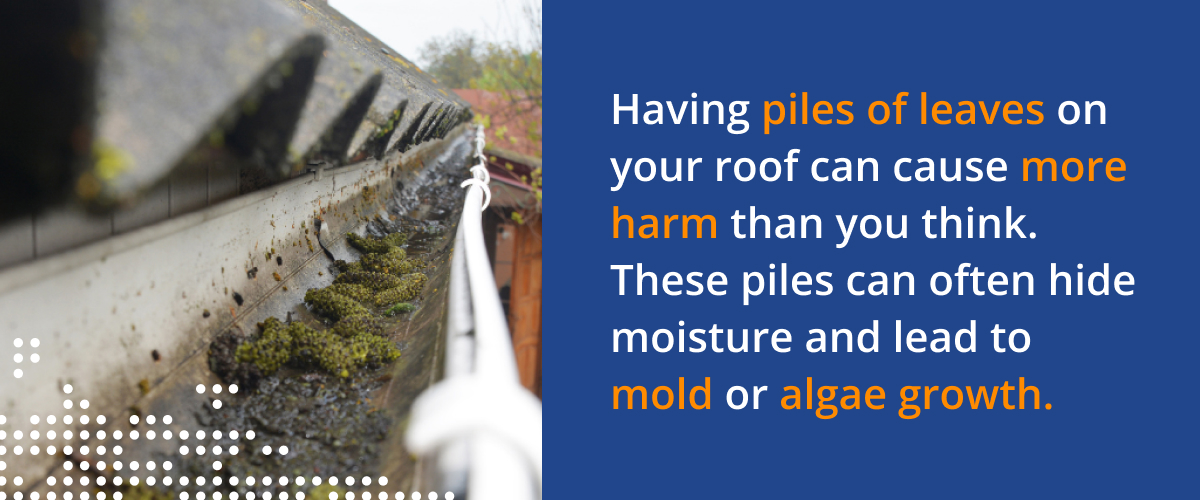 General Maintenance
These final considerations will boost your roof's lifespan and keep it looking good and performing well.
Roof Cleaning
Most people wouldn't consider cleaning their roofs as important. However, having a dirty roof doesn't just ruin the curb appeal. Collected dirt can cause damage. Dirty roofs create great environments for growing lichen, fungus, and moss. 
Although it is not typical for most climates in Arizona, having moss, mold, or fungus growing on your roof can lead to more extensive damage. It's essential to remove it quickly. 
Annual roof cleanings will keep your roof looking clean and help avoid buildup.
Tree Trimming
Keeping trees away from your roof will prevent any potential debris from hitting and causing damage. This practice will also help keep any unwanted moisture from building up on your roof in higher moisture climates.
Roof Repair or Replacement?
Even with regular maintenance, there may be times you'll need repairs. Roofs do not last forever, and you will need to replace your roof at some point. Knowing when to repair and when to replace is often a difficult decision. 
If you keep up with yearly inspections, regular maintenance, and debris removal, you should already have a good relationship with a local roofing contractor. Use your pre-existing relationship to gain guidance on choosing to repair or replace.
Roofing Repair, It's In Our Name
There are a lot of tasks to keep your roof well maintained, and it can often feel overwhelming. That's where roofing companies are a great option. 
We don't recommend DIY roofing repairs because roofs can be dangerous. Having a licensed professional contractor to help you make the correct decisions will give you peace of mind.
If you're in the Phoenix, Arizona, area and looking for residential roof maintenance, contact us at (623)303-0537. We'll schedule an appointment or inspection to ensure you're cared for.