< Back to Blog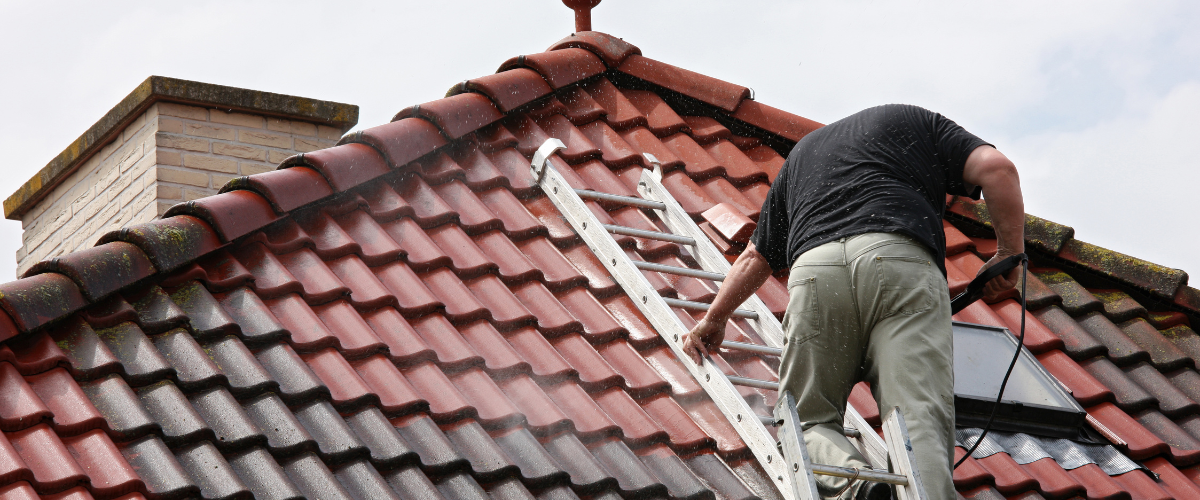 Preventative Roofing Maintenance Plans
Maintenance is vital for the longevity of your roof and should be a regularly scheduled event. Regardless of the state of your roof, it's crucial to have a roof inspection yearly. Regular inspections catch roof issues early on, but keeping track of when to call the roofers can be a hassle. 
Roofing companies are starting to create preventative maintenance programs similar to subscriptions. Repair companies include annual inspections and other maintenance for a monthly fee. It's a popular way to keep maintenance costs low.
What is a Roof Maintenance Plan?
Roof Maintenance programs allow customers to pay for their roofing costs yearly. Depending on the plan, you're guaranteed an annual inspection plus periodic cleaning, coating, and repairs. Consider it a subscription service for a year's worth of upkeep.
The program might have varying "levels" of plans that offer additional monthly payments and services. These levels allow for greater flexibility and options for homeowners. Some even include repairs at no additional charge.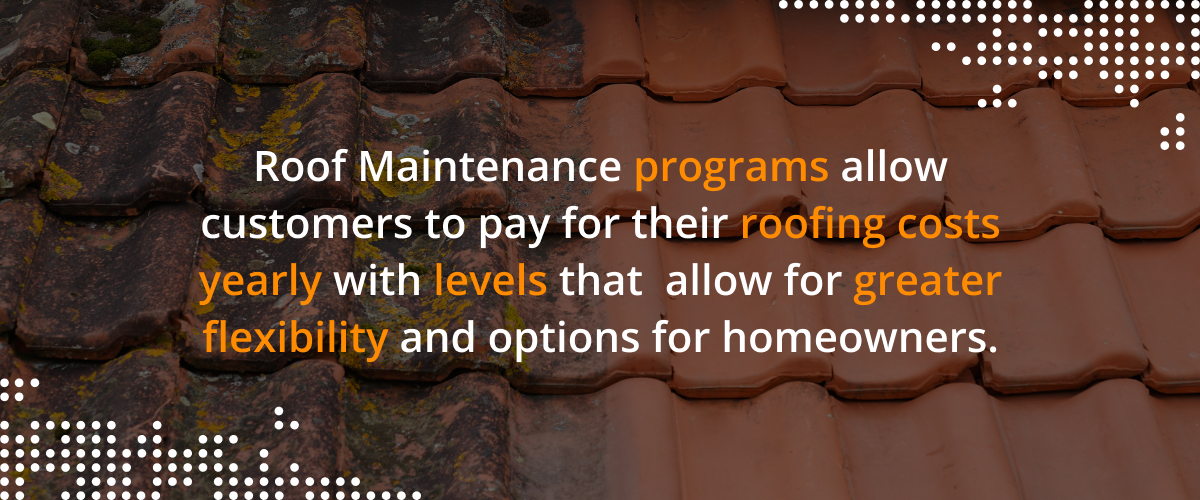 Why Do I Need a Roof Maintenance Plan?
It's no secret that you can extend the life of your roofing material by getting regular maintenance. Maintenance plans give homeowners peace of mind when planning roofing services.
A plan will help you catch minor damages early before they become large problems. These plans also give homeowners the ability to manage the costs of roof repair easily. When you sign up for a preventative maintenance plan, you'll be able to see upfront what you will pay for a year's worth of care.
What a Preventative Maintenance Plan Looks Like
Regardless of whether or not you have invested in a maintenance plan, you can create your yearly checklist to ensure you're taking care of your roof. 
Even without a "subscription plan," most roofing contractors offer helpful tips and reminders for roof maintenance. If you intend to make a plan, call a contractor and see how they can help.
Create a calendar of events to help you keep track of these maintenance musts.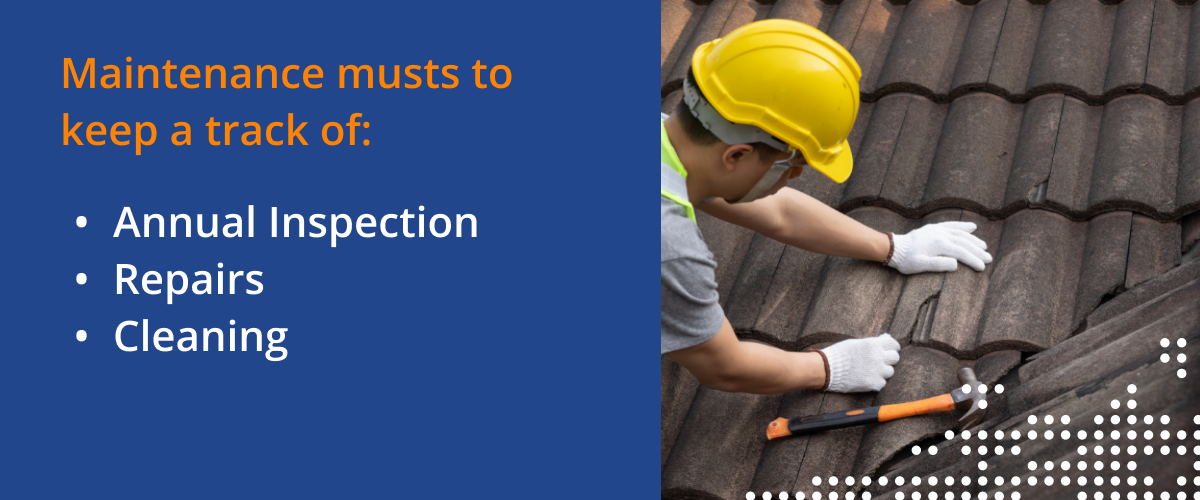 Annual Inspection
Roof inspections should take place yearly, especially after major weather events. If you inspect your roof on your own, there's a good chance you'll miss something. A professional roofer will know what to look for and how to look for it.
Roof inspections are similar to checking the oil in your car. Both provide regular upkeep and not just when you suspect something is wrong. If you notice you need to change it, you change it. If it's okay, you leave it alone. Regardless, it's always good to check.
Inspectors will look out for the following:
Cracks and missing shingles and tiles
Debris
Moss and algae
Damages gutters
Damaged fascia and flashing
Signs of leaks in the house
Repairs
If something does come up in your inspection, your roofing contractor can reseal, repair, or replace the needed section. The good thing about getting regular inspections is that when you do find something, it's typically not catastrophic. Instead, the costs are much lower because you've caught the problem early on. 
Cleaning
Roof washing is an often neglected part of roof maintenance. In reality, it's an integral part of making sure your roof is operating optimally. 
There are two parts to keeping your roof clean. If there is any debris on your roof, remove it. Check on your gutters periodically and clean them out when needed. Doing this will help keep water flowing off your roof correctly.
The second part is roof washing. This step takes more effort and often professional help. Roof washers will use a specific type of washer depending on your roofing material and give your roof a deep cleaning.
How often you get your roof cleaned is variable. Some say at least twice a year; others say to do it when needed. Your plan will determine whether you may perform roof washing whenever needed or be limited to an inspection time frame.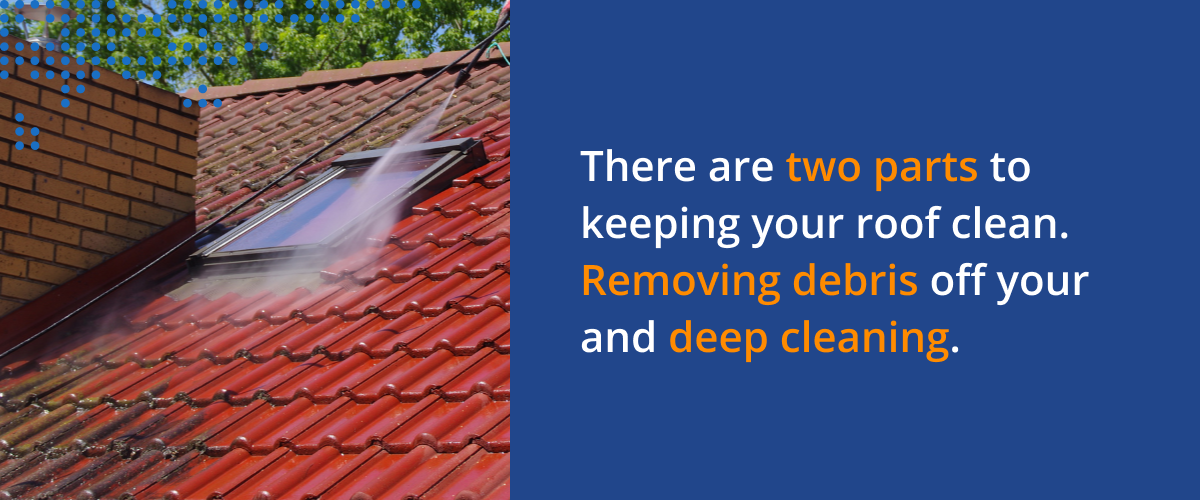 Legacy Repair's Approach to Preventative Maintenance
For those living in Arizona's central valley, Legacy Repair can help you with your roof maintenance needs. We offer three types of roof maintenance for building owners. 
Roof Inspections
Roof Cleaning
Whenever you need us, we'll be there. Build a plan and call up whenever you need us. Keep your roofing systems working well by partnering with legacy repair. Contact us to learn more about your options.