< Back to Blog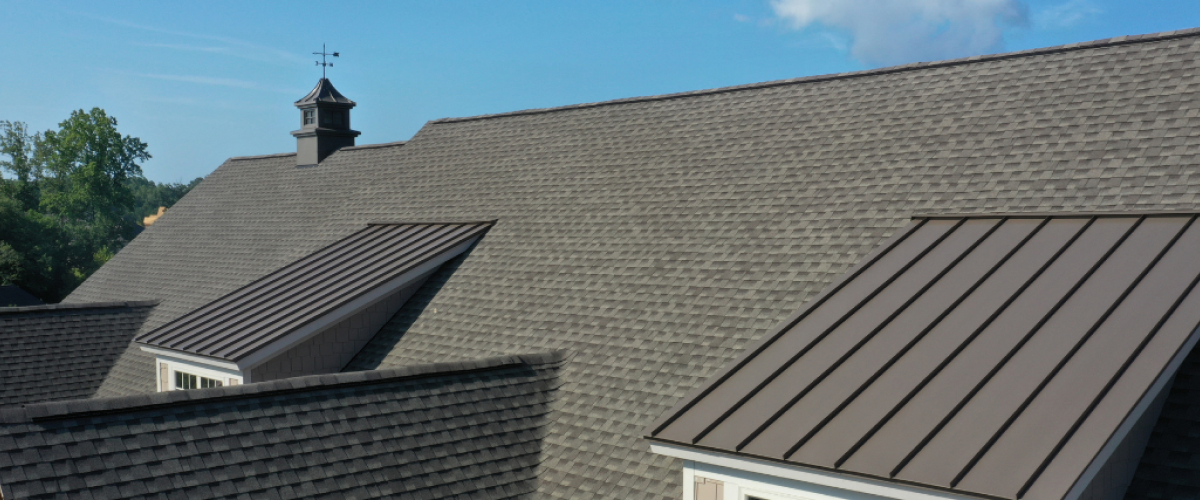 The Best Roofing Shingle Brands
Like everything we buy and consume, brand matters. Some people are attracted to brands just because of the name. However, some brands are known for producing high-quality products. The roofing industry has different brands that are known for different things. 
Choosing the right roofing material is a difficult task in and of itself. Asphalt shingles are by far the most used material by a long shot—for good reason! Choosing the best asphalt roofing shingles for your job won't be easy, but with the right knowledge and help from a contractor, you can make the best-informed decision. 
What Difference Quality Shingles Can Make
Just because you chose shingles for your roof doesn't mean you've made the cheapest choice. Shingles may be the cheapest option for roofing materials, but you can still be economical when looking for quality.  
Here's why you want to put some effort into deciding which roof shingles are best for your home.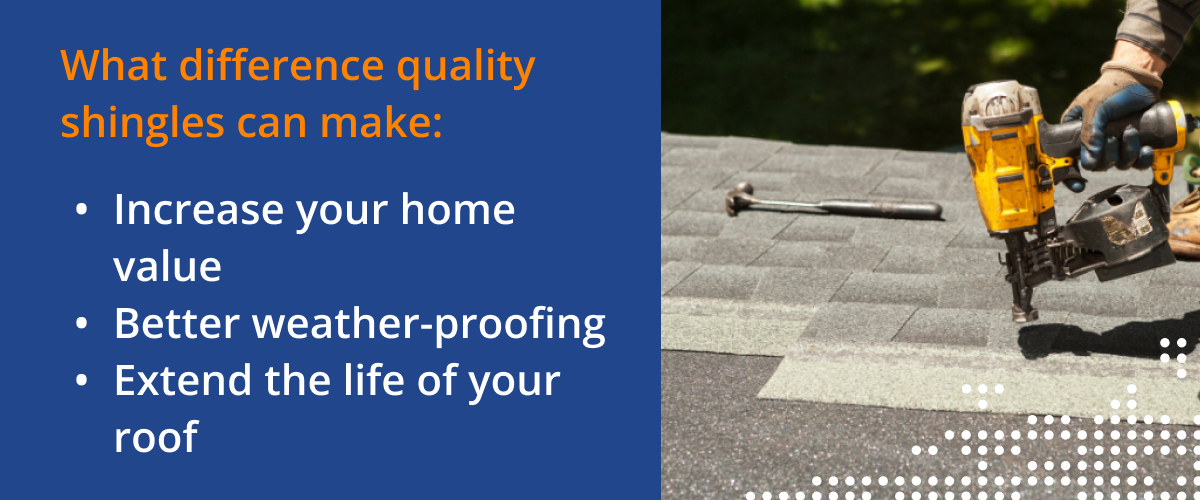 Increase Your House's Value
Homeowners who maintain their roofs will increase their home's curb appeal. Investing in a new, quality roof will increase the value of your home as well. A well-maintained roof can have the biggest effect on your home's market value. 
New homeowners don't want to buy a home just to replace the shingles within a year or two. They'll be much happier and willing to buy your home if your shingles are newer and well-maintained.
Better Weather-Proofing
High winds and monsoons can mean more repairs than you want to do. You can avoid the need for repairs by investing in a more quality brand. These brands offer materials that are hardier and more trusted.
Homeowners that use hardy shingles will notice fewer leaks and fewer broken shingles.
Extend the Life of Your Roof
Asphalt shingles have a lifespan of 15-30 years. Certain products and trusted brands can automatically put you in the upper end of that estimate. Maintaining your shingles will increase that number even more. 
There are several items on a maintenance plan that should happen every year. Partnering with a roofing company can help you keep track of everything you need. For maintenance, inspections, and repair needs, Legacy Roofing can help increase the lifespan of your asphalt shingle roof.
Best Roofing Shingles Brands
Homeowners may be wondering: what are the best asphalt roofing shingles? The answer to that question will be different for everyone. There are pros and cons to every shingle.
Here is a list of shingle brands we love. These were chosen due to brand trust, value, and quality of the material. In no particular order, here are our favorites.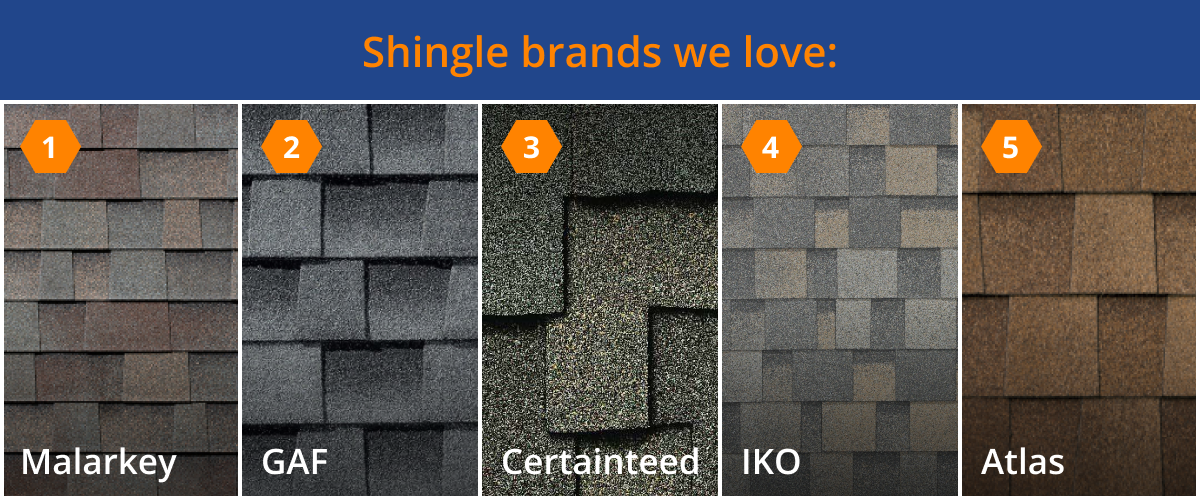 Malarkey
Malarkey is a producer of mid to high-end asphalt shingles and is a favorite for roofers. They're headquartered out of Portland, Oregon, and have been in the business since 1956.
Why We Love Them
Malarkey uses technology typically reserved for luxury shingles in every line and level. Their "rubberized" asphalt creates a more durable shingle that offers long-term performance.
Their Windsor Scotchgard is a proven shingle known for its all-weather resilience.
GAF
GAF is a  popular roof brand that was founded in 1886. It's also the current largest roofing material producer in the United States. GAF products are tried and true. You won't go wrong choosing this brand of roof shingles for your home.
Why We Love Them
GAF shingles come with an automatic lifetime limited warranty—which is great for homeowners. GAF offers a great mix of budget and quality. GAF is a trusted brand that produces the best-selling shingles in the United States.
Certainteed
Certainteed was founded in 1904 and is among the favorites among roofing contractors. Being a company that old, they must be doing something right.
Why We Love Them
Certainteed is known for producing long-lasting, hardy shingles. Their Presidential Shake is known as being one of the longest-lasting shingles on the market. Certainteed is also some of the best-looking designer shingles you can buy.
IKO
IKO is another roofing contractor favorite. Founded in 1951, IKO shingles are known for their high performance.
Why We Love Them
IKO shingles are one of the cheapest options for homeowners. Although they are unusually cheap, these shingles do not compromise on quality. They offer a Super Wind Resistance limited warranty of up to 130 mph. 
Atlas
Atlas, founded in 1982, is another price-conscious option. However, contractors agree that they perform just as well as higher-priced options.
Why We Love Them
Atlas has a lot of options for design and color and they consistently score highest for durability. They have a wide range of lines that are certain to have what you need.
No Matter Which Brand You Use, Choose Legacy Repair
The best quality roofing shingles are only as good as the maintenance you put into them. Whether you choose architectural shingles, luxury shingles, budget shingles, or any other type of shingle, Legacy Repair is here to help. 
Homeowners can keep their roofs operational and extend their lifespan by getting yearly inspections, maintenance, and repairs. Phoenix, Arizona residents can contact Legacy Repair to schedule an appointment for an inspection today.